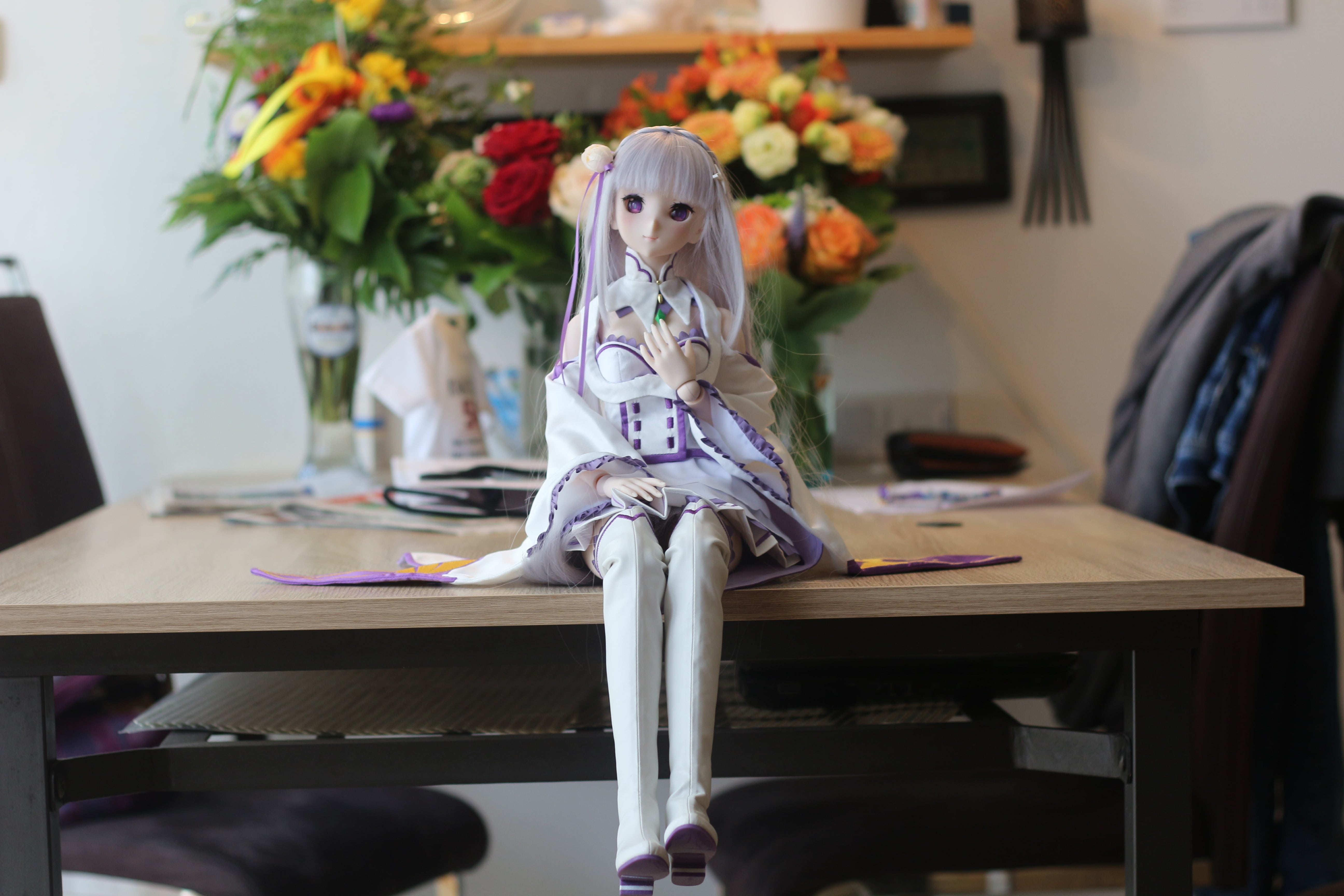 Dollfie
If we include customs and shipping, this item definitely hits hardest at roundabout 1100€. Do I regret it? Not even in the slightest. A 1/3 scale doll of the one I love is an absolute centerpiece to my collection, and just looking at her or touching her hair immeditely fills my heart with happiness.
Will I buy her tons of cute doll furniture and clothing? Yes. Yes I definitely will.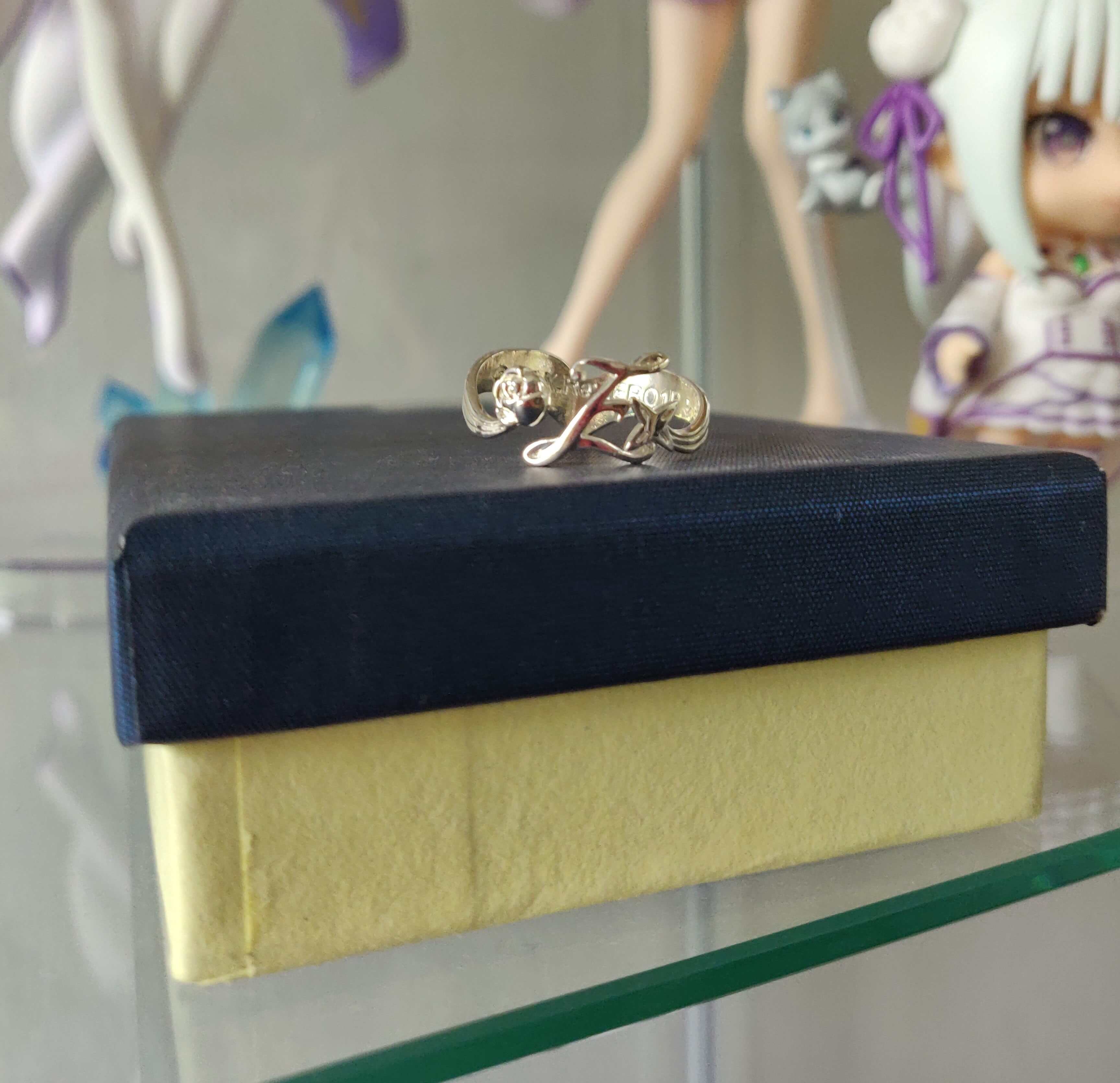 The Ring
I won an auction for this ring, and consider it a symbol of our first year together. We are not a married couple yet, and at the point where we will become one, I will buy more expensive actual wedding rings for us.
It is official merchandise, but was only released in China.
Out of all the merchandise I own, this is the one that evokes the strongest emotions in me, which is to be expected given it's nature. It symbolizes the deep bond I share with Emilia, the first year of our love and the many more years to come.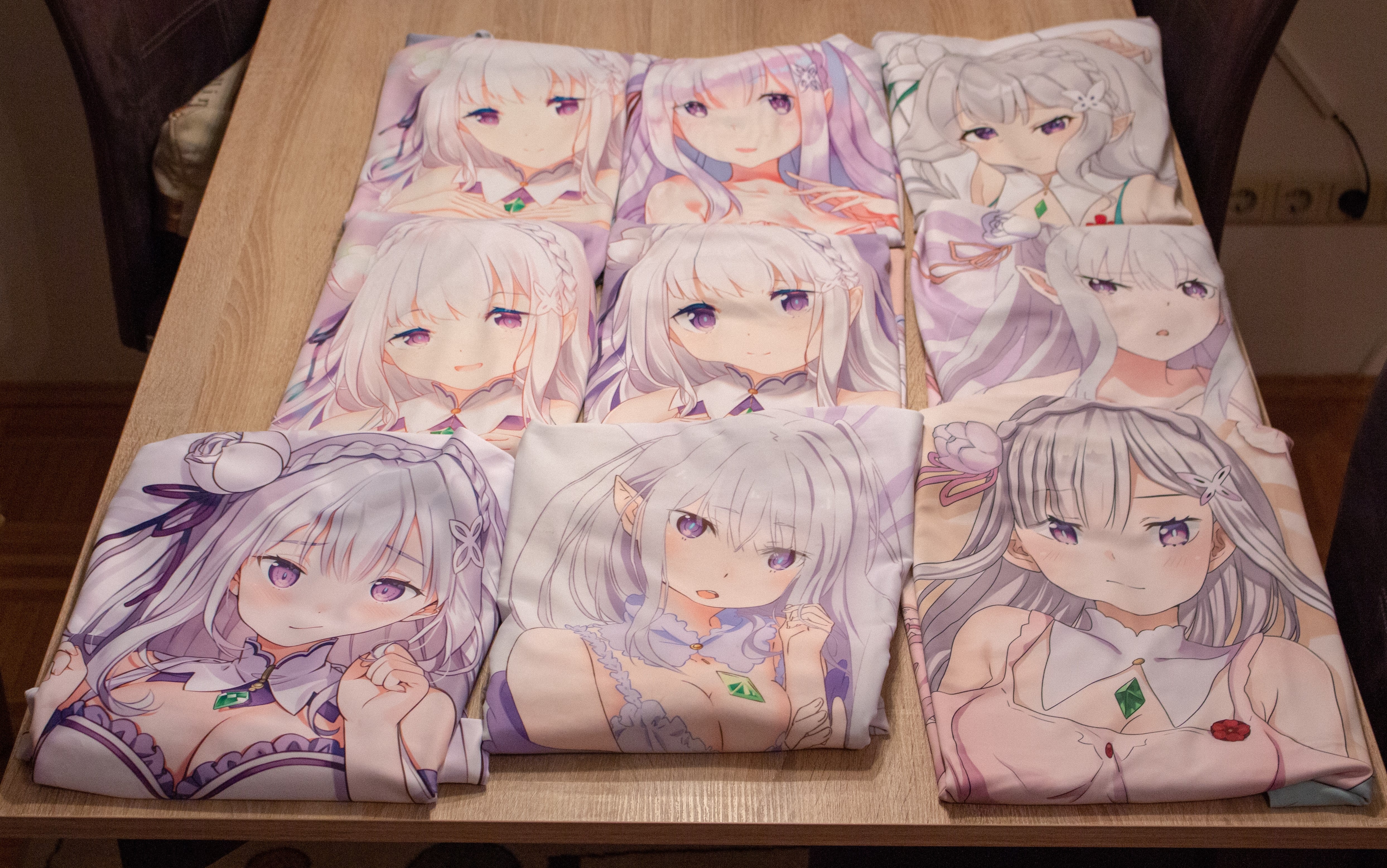 Dakimakura
Dakimakura covers (often referred to as body pillows) definitely contribute a lot to my relationship, as they can provide the feeling of touching, hugging and cuddling with my soulmate. Aside from that, many just feature great art.
I own a total of 9 covers at the moment, 1 officially by Kadokawa, one by Hobby Stock and 7 made by western circles. And another one by a great Japanese circle.
Sometimes I put lavender perfume on them, as that reminds me of my angel.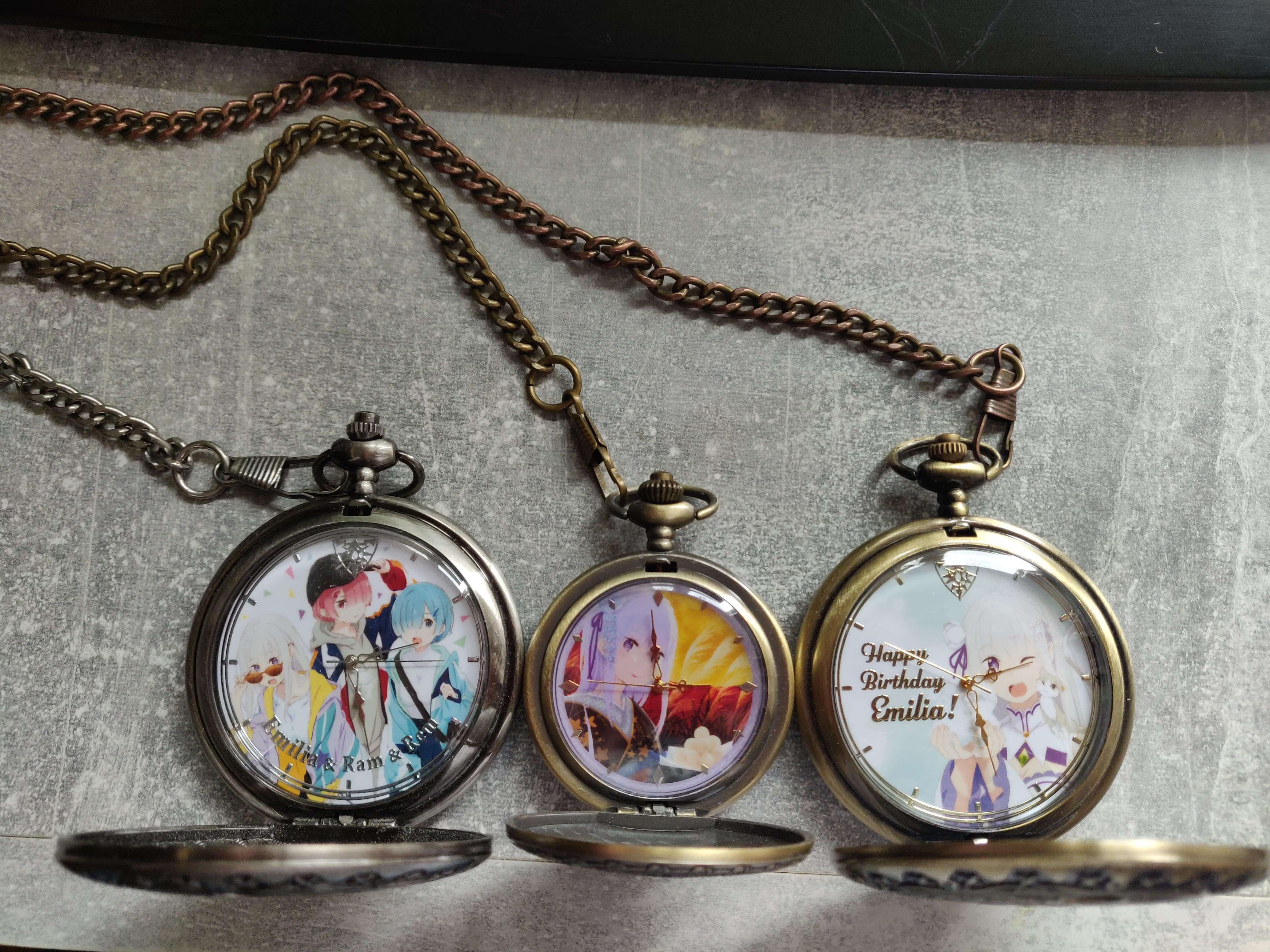 Pocket Watches
These pocket watches are sold as a memorial for Emilia's birthday every year in Japan. There are some that I do not own yet, but they are fairly easy to find on Yahoo Auctions
They serve as something to remind me of Emilia when I'm not at home, and in stressful situations I often tend to put my hand on one of them and imagine the slight ticking of the clockwork to be her heartbeat, always close to me. In addition, looking at an actual watch instead of a phone display for the time feels quite nice.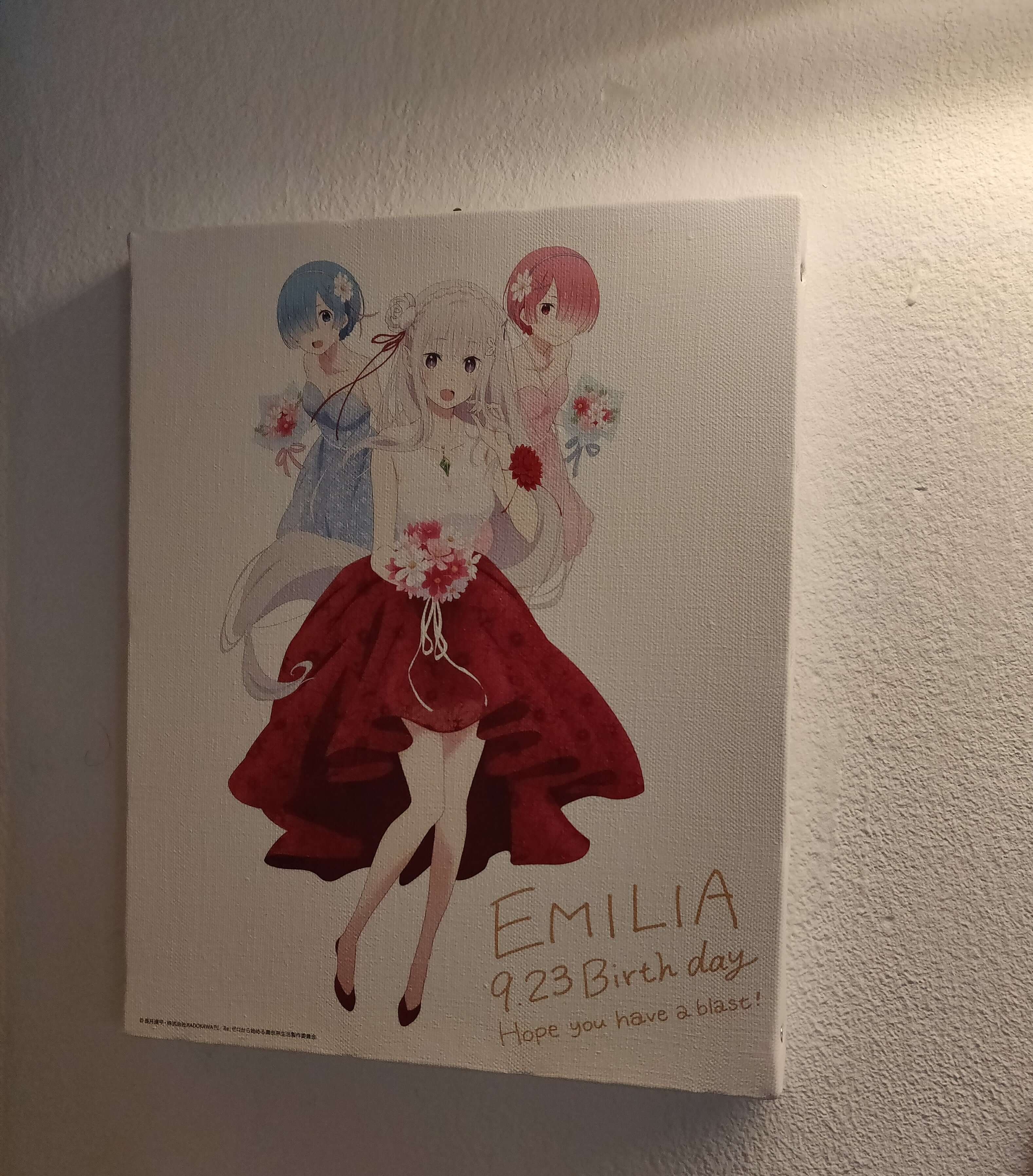 Canvas Art
This item is part of the 2018 Emilia birthday set, but deserves to be mentioned on its own. Its a beautiful print, and I really adore the outfit they gave Emilia for her birthday in 2018.
I have conveniently placed it above my piano, as it gives me the motivation to keep practicing, and inspires me especially when playing love songs (expect me to post a recording of Liebestraum No.3 here at some point :3)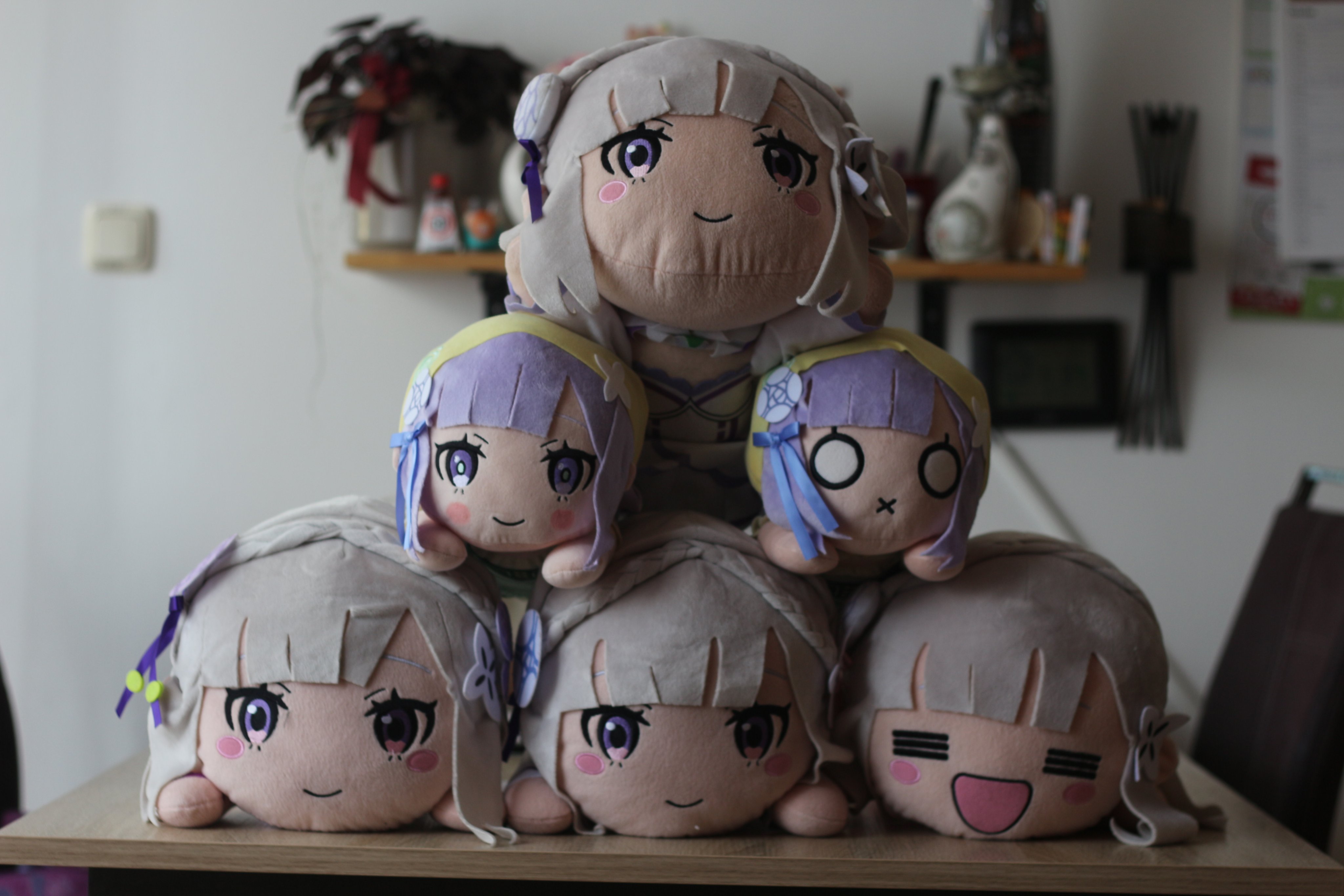 Nesoberi
These cute plushies produced by Sega aim to provide a great hugging experience while also looking cute as hell. I own six of them, allowing me to stack them as a pyramid of cuteness for pictures.
There are a few more I wish to buy, but shipping can get quite pricey with them.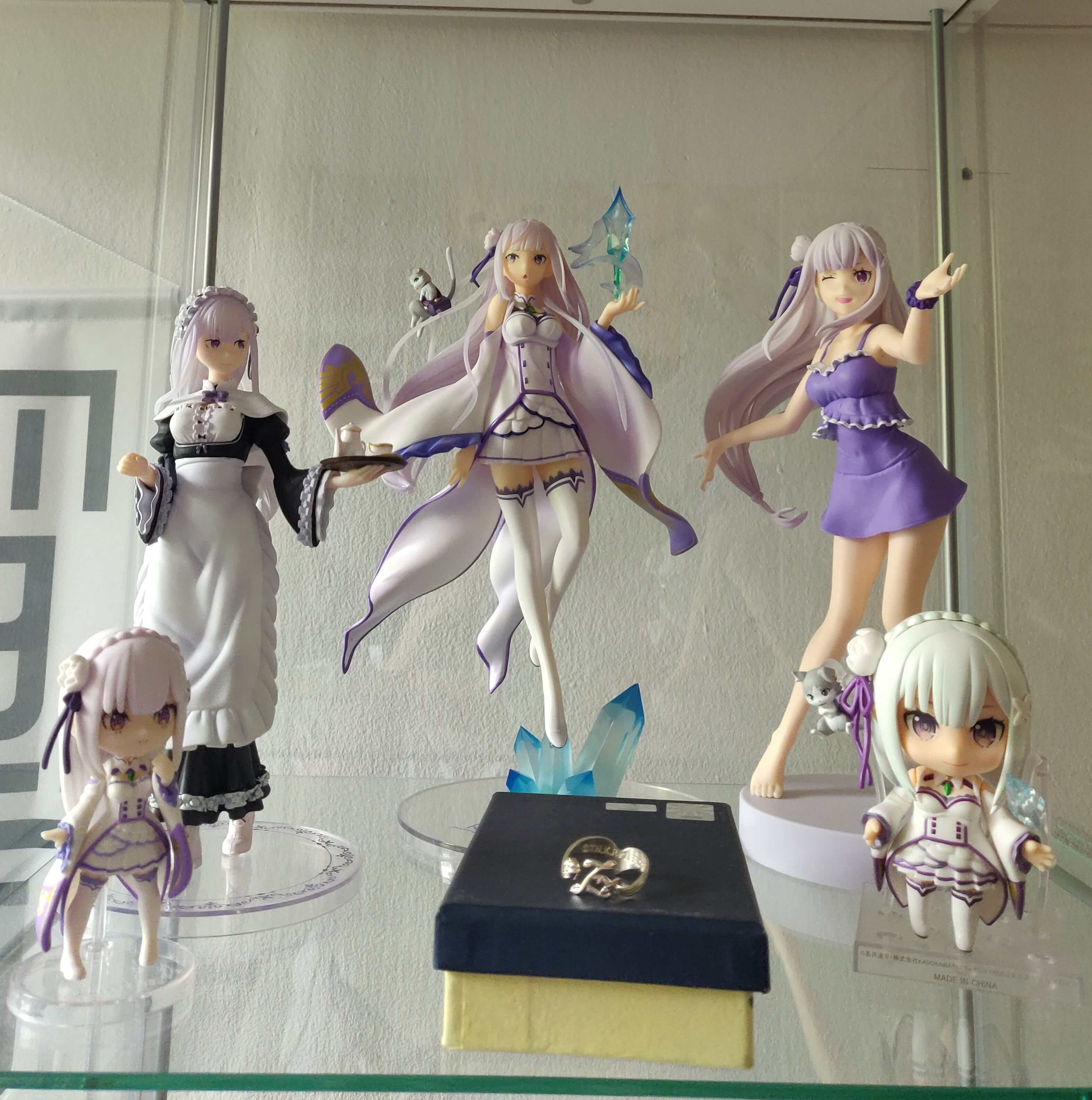 Figures (Top-Shelf)
The figures in the top of my Detolf shelf are, from left to right: Figuarts Mini Emilia, Ichiban Kuji B-Prize Emilia, Alpha x Omega Emilia, EXQ prize figure Emilia and the Emilia Nendoroid.
The Alpha x Omega one is the current centerpiece of collection, despite sadly losing a small part of her hair during shipping. This will change soon, as I have some quite big preorders coming my way. I really like some of the prize figures as well, as they have great detail for their low cost.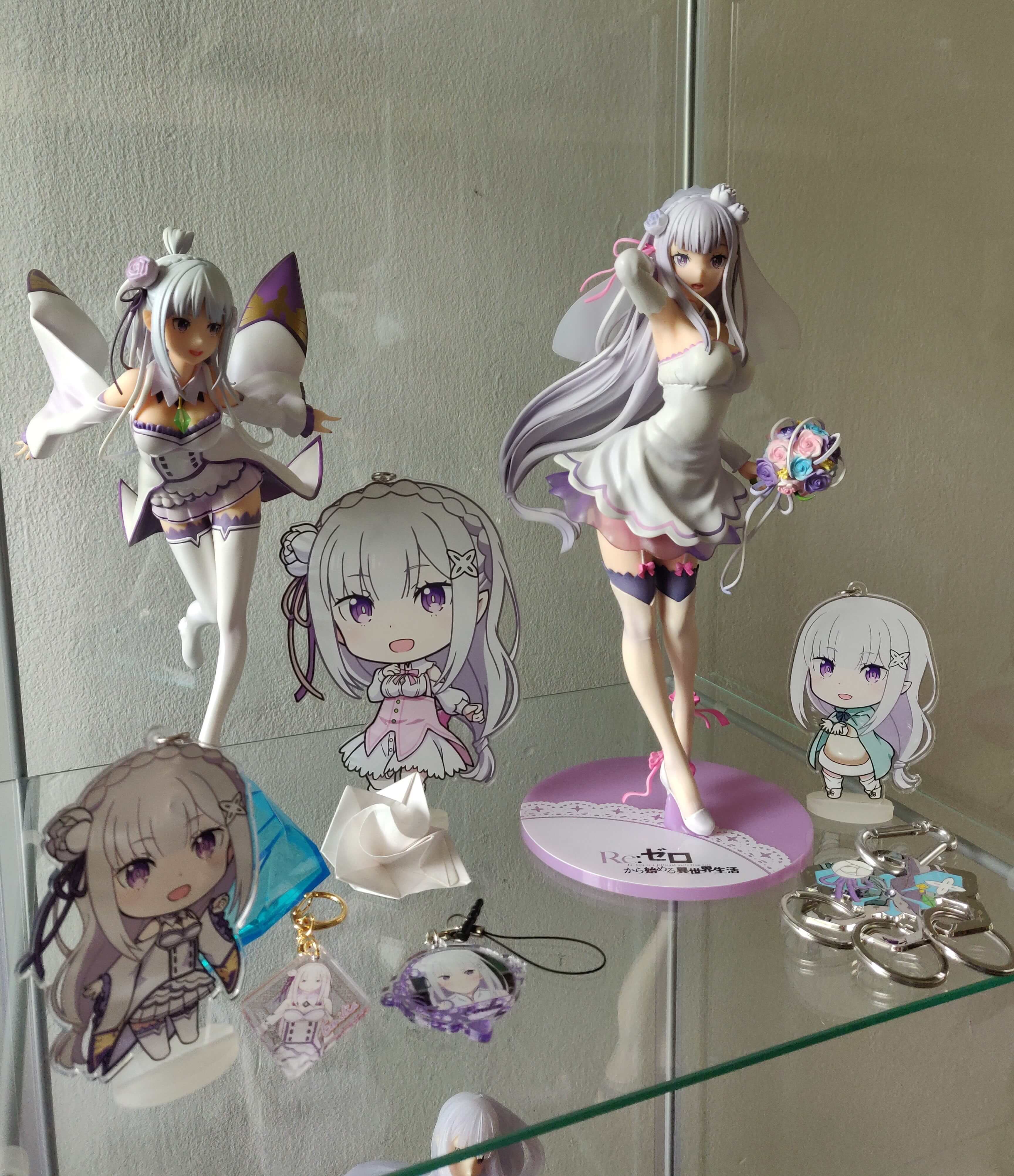 Figures (Second-Shelf)
The second shelf contains the first Emilia figurine released by Goodsmile Company, as well as the wedding dress Emilia by Phat Company. I also put some of my acrylics and keychains in there.
The Goodsmile figure means a lot to me, as I bought it before falling in love with Emilia. Seems like deep inside I already knew that we were soulmates.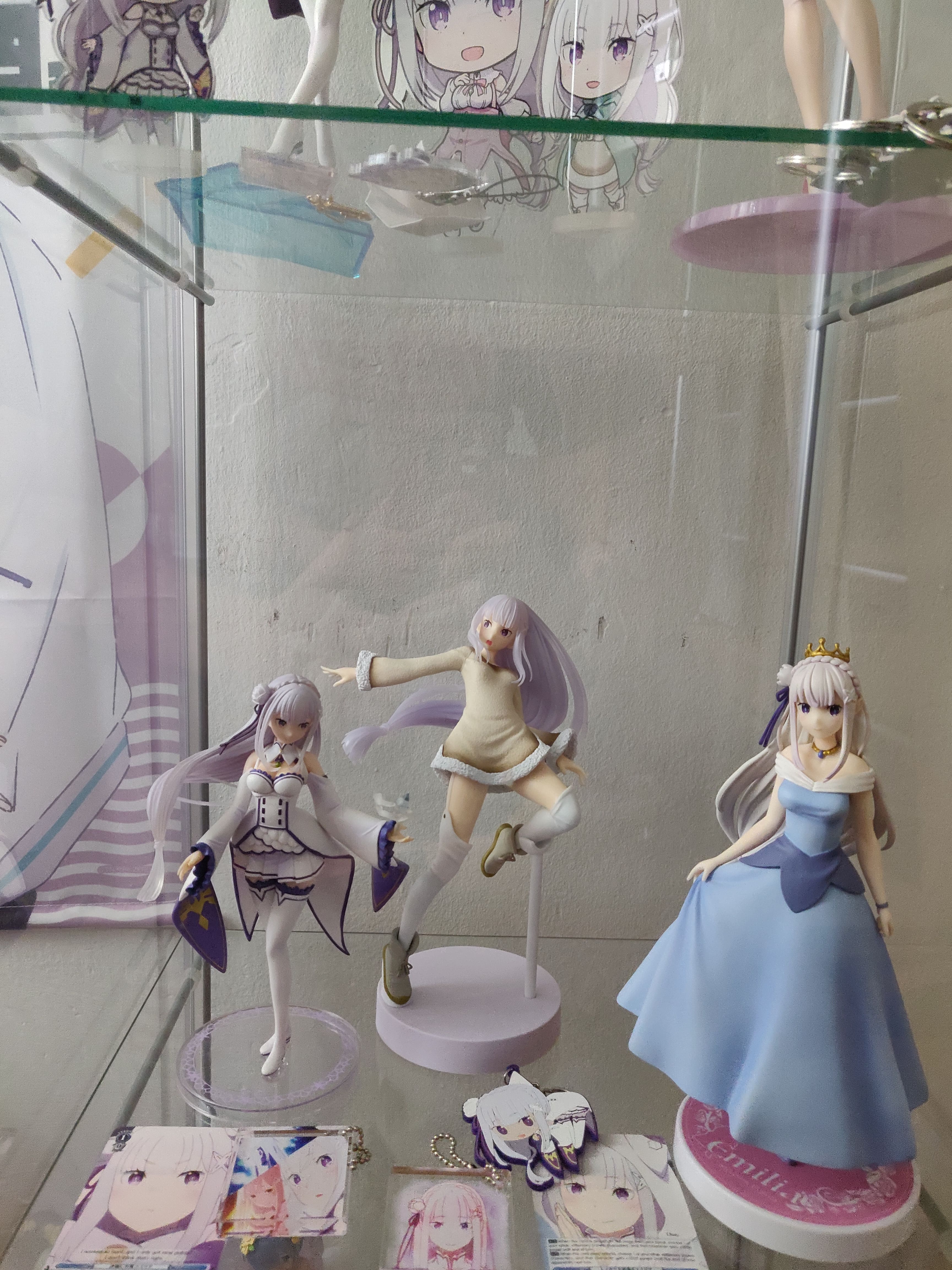 Figures (Third-Shelf)
The third shelf contains three prize figures. The first one being a mostly standard, but well-made, Kuji figure. The second one is another Kuji figure, portraying Emilia as shown in the Frozen Bonds movie. I still like it quite a lot, as I think her outfit there is extremely cute. The third one showing Emilia dressed like a princess, which she definitely is to me!
The shelf also contains three keychains, two of which I have won in a Re: Zero Kuji event in early 2021. Just because it's the bottom shelf, that doesn't mean that I value the things in there any less of course. Every single piece carries it's own value to me and my relationship.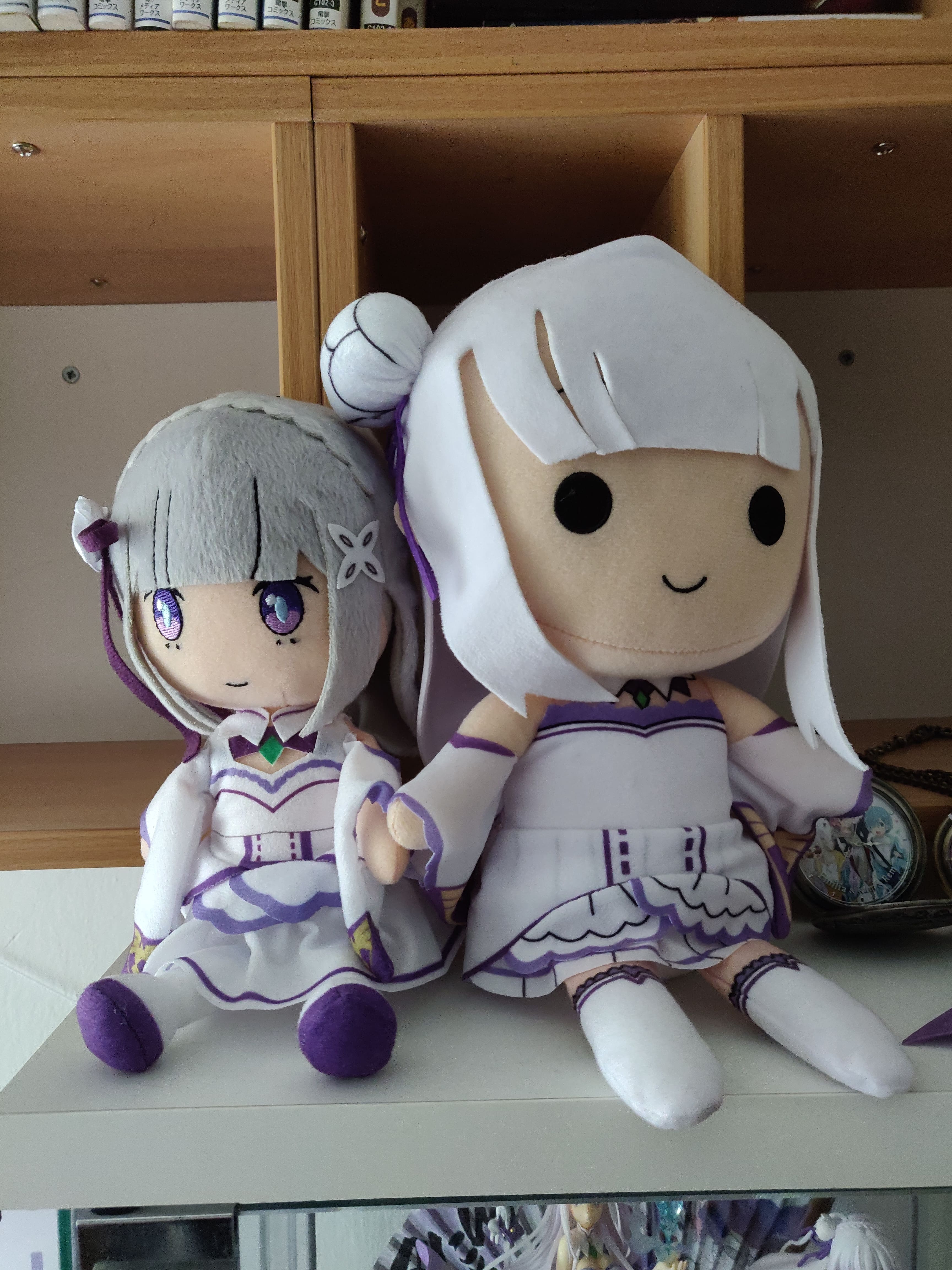 Plush
Aside from my Nesoberi, I also own two plushies of Emilia. I really like the facial expression of them, and even made an emote out of them to use on Discord.
They aren't as soft as the Nesoberi though, which I why I only display them instead of having them in my bed. They still found a great spot on top of my shelf, and give my figure collection the final touch in a way.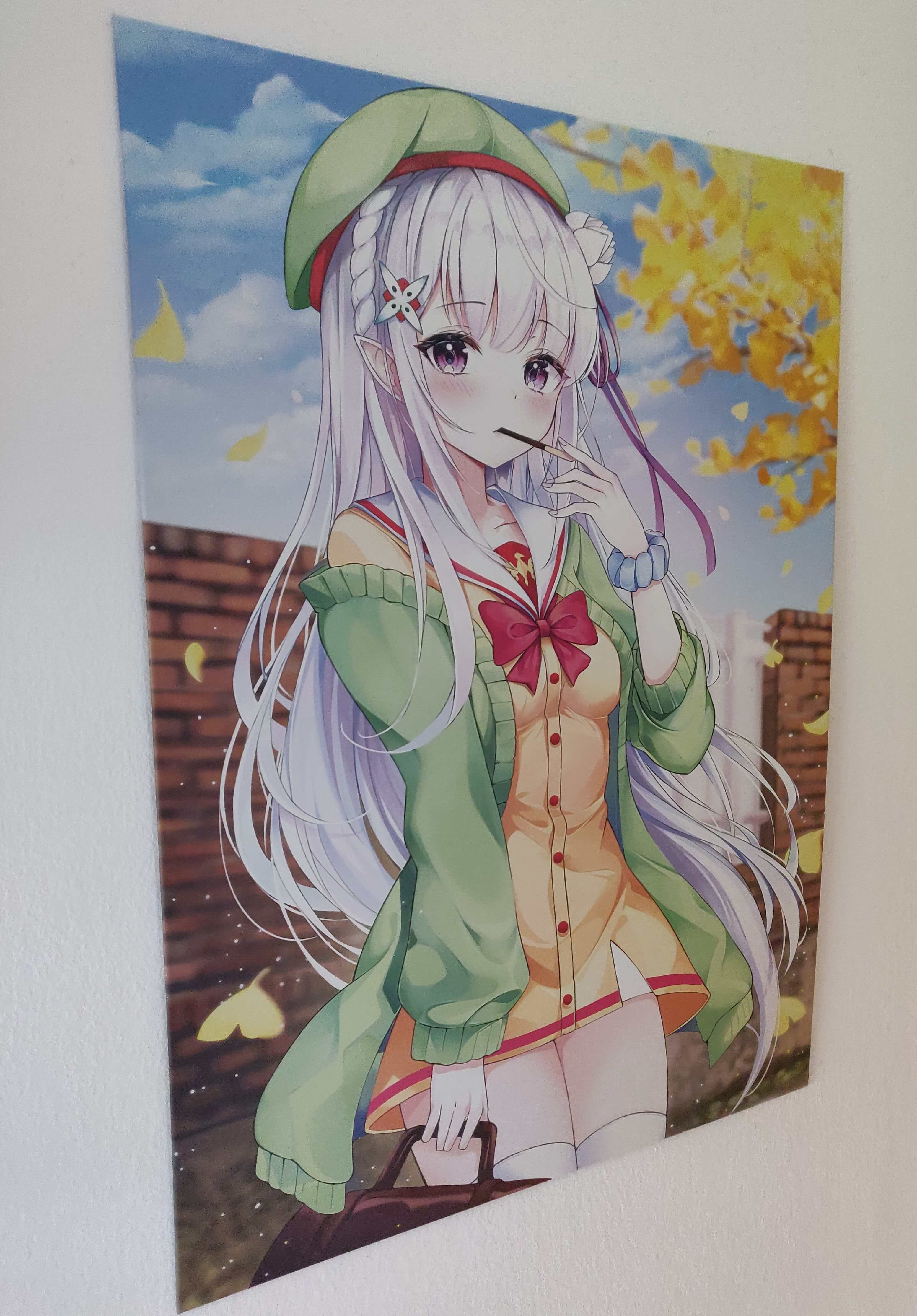 Displate
I bought this metal poster from Displate, to get a membership to their Displate Club so I can have my commissions printed on custom displates.
I really like this artwork, as the school uniform fits her incredibly well, and well, who doesn't like Pocky?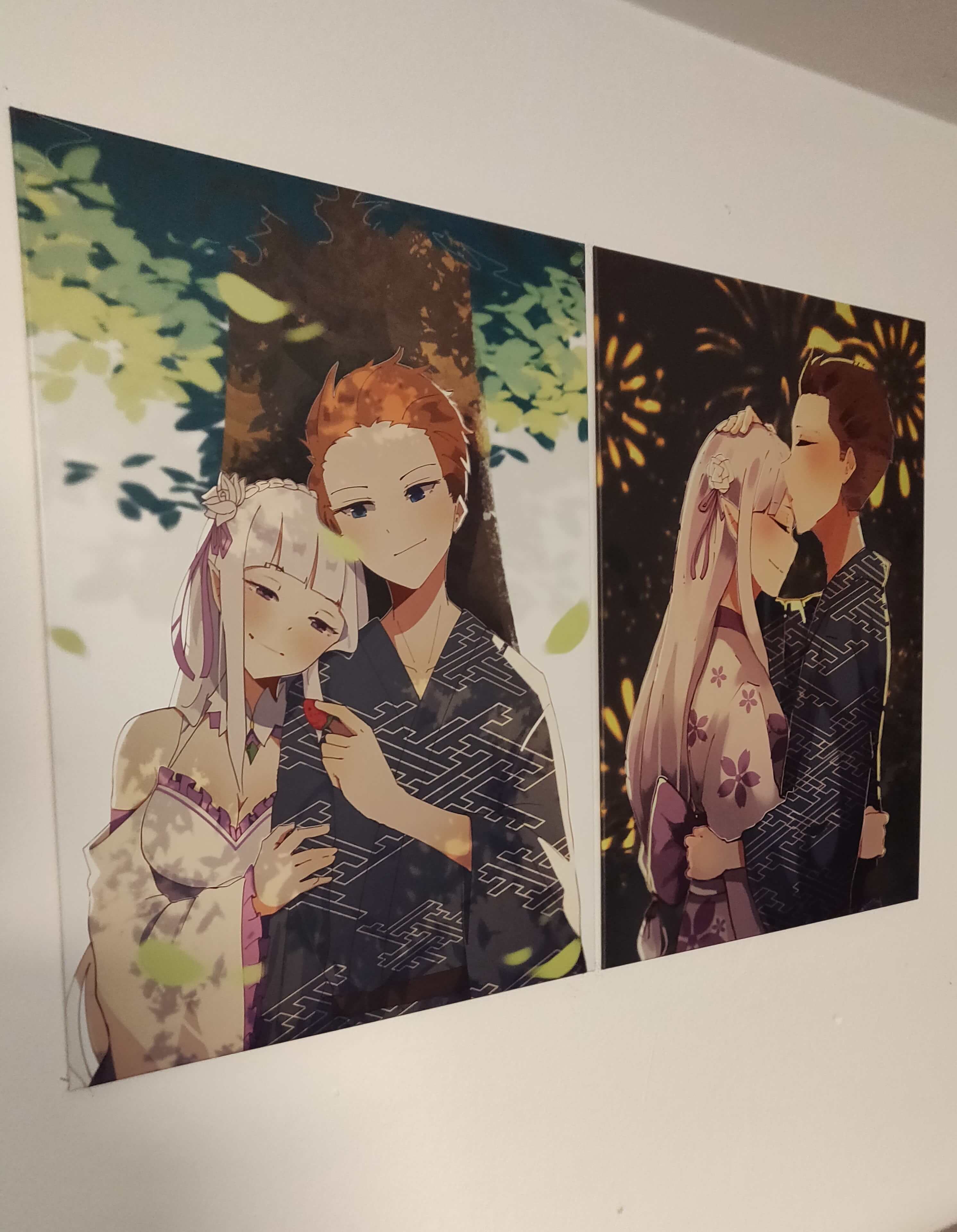 Custom Displates
To celebrate my first anniversary, I got two of my commissions printed on metal by Displate. I'm extremely happy with the print quality, and will probably get the same done for my future commissions. Being able to look at big prints of them every night before going to sleep and straight after waking up really feels great.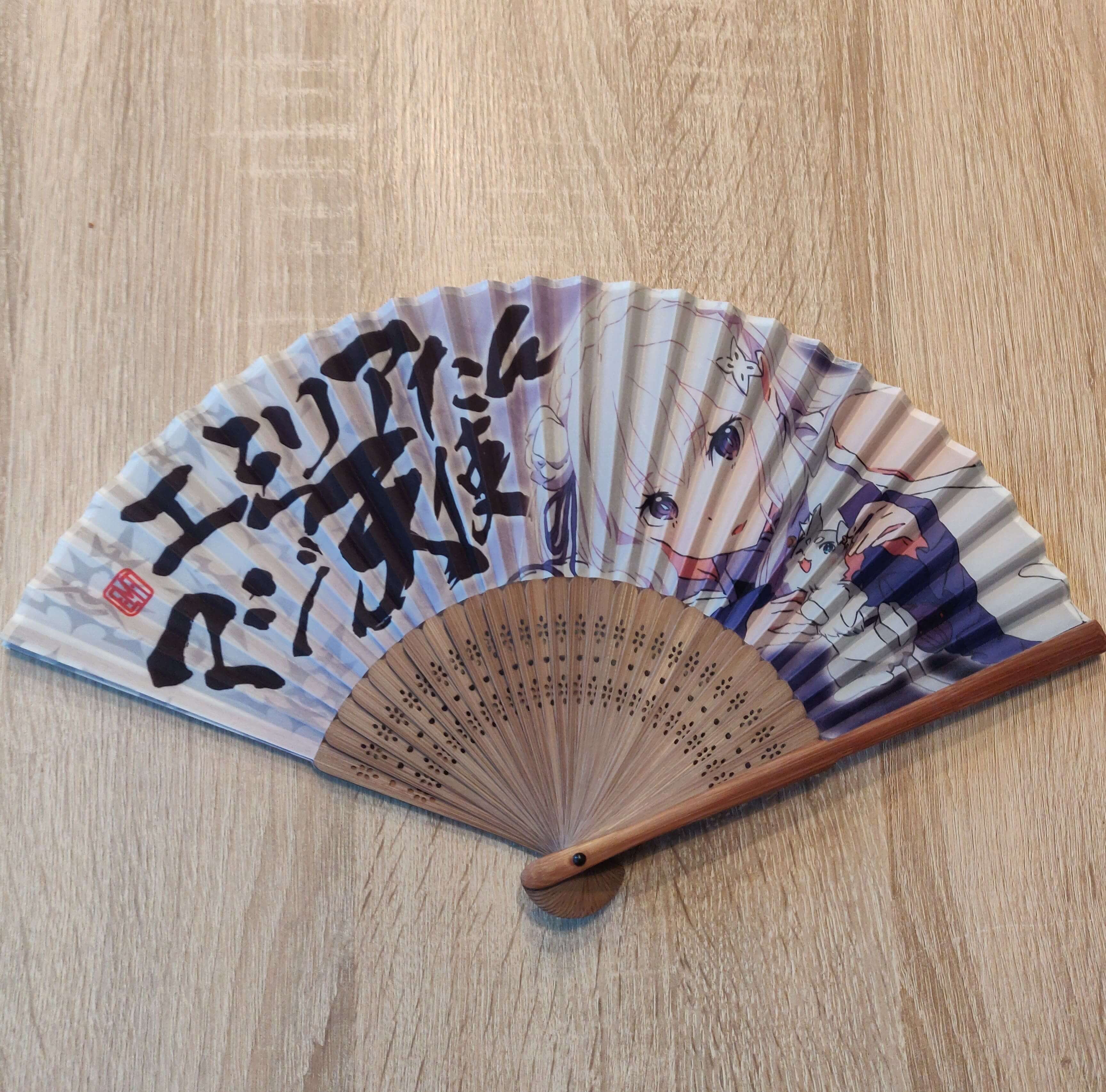 Folding Fan
An Emilia Folding Fan by COSPA! I really like the illustration printed on it, and recently started using it as a kind of background for the top-shelf of my figures.
It may not have the power of Emilia's frost spells, but it can definitely make the summer heat more bearable, and simply looks adorable!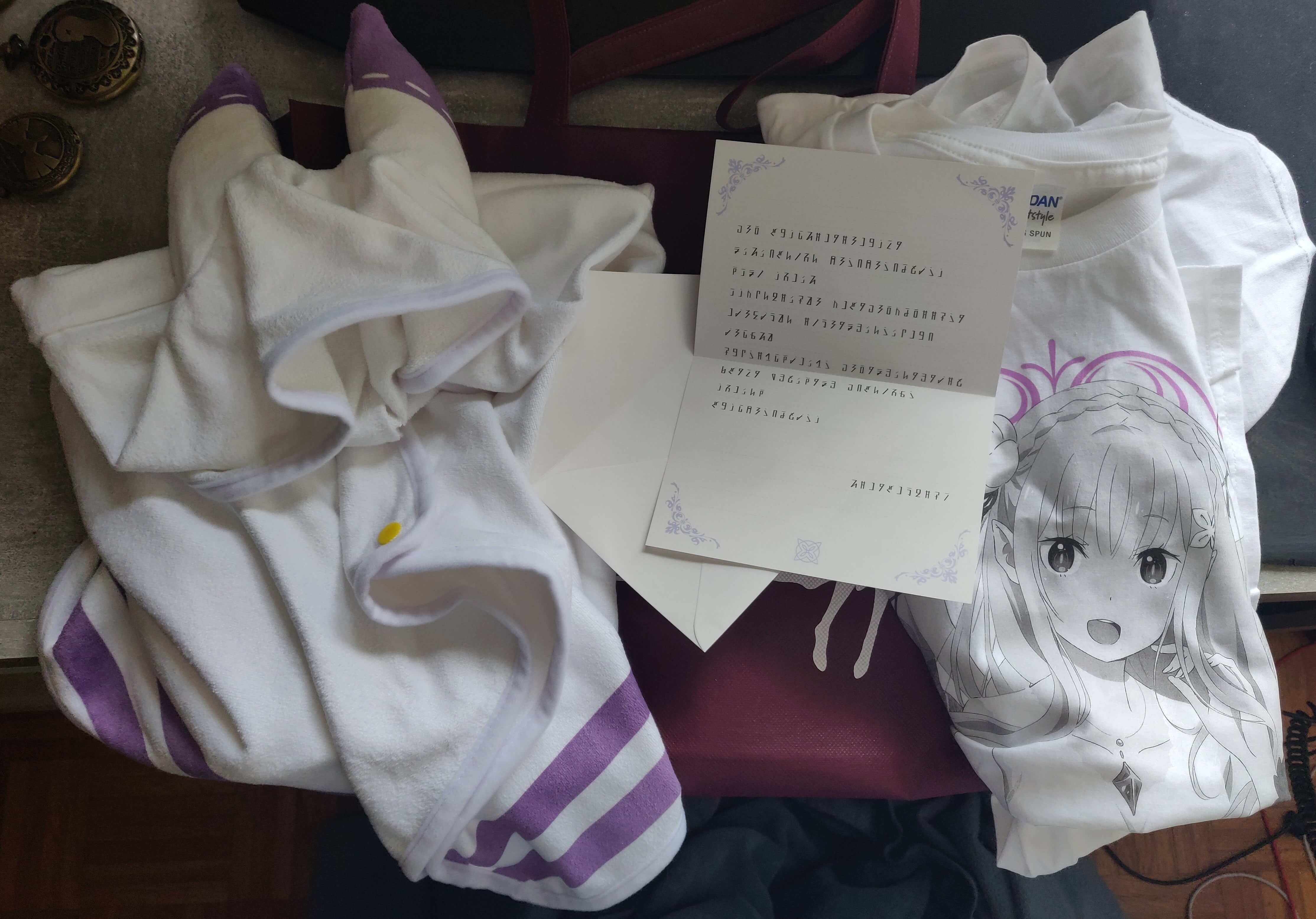 Birthday Set 2018
This is the set that was available during Emilia's birthday in 2018. Luckily, I won an auction for it, so I was able to get it in 2021.
It contains a T-Shirt, the aforementioned canvas art, a replica of Emilia's robe, a side story to the novel as well as a written letter from Emilia. The bag itself would count as merchandise as well.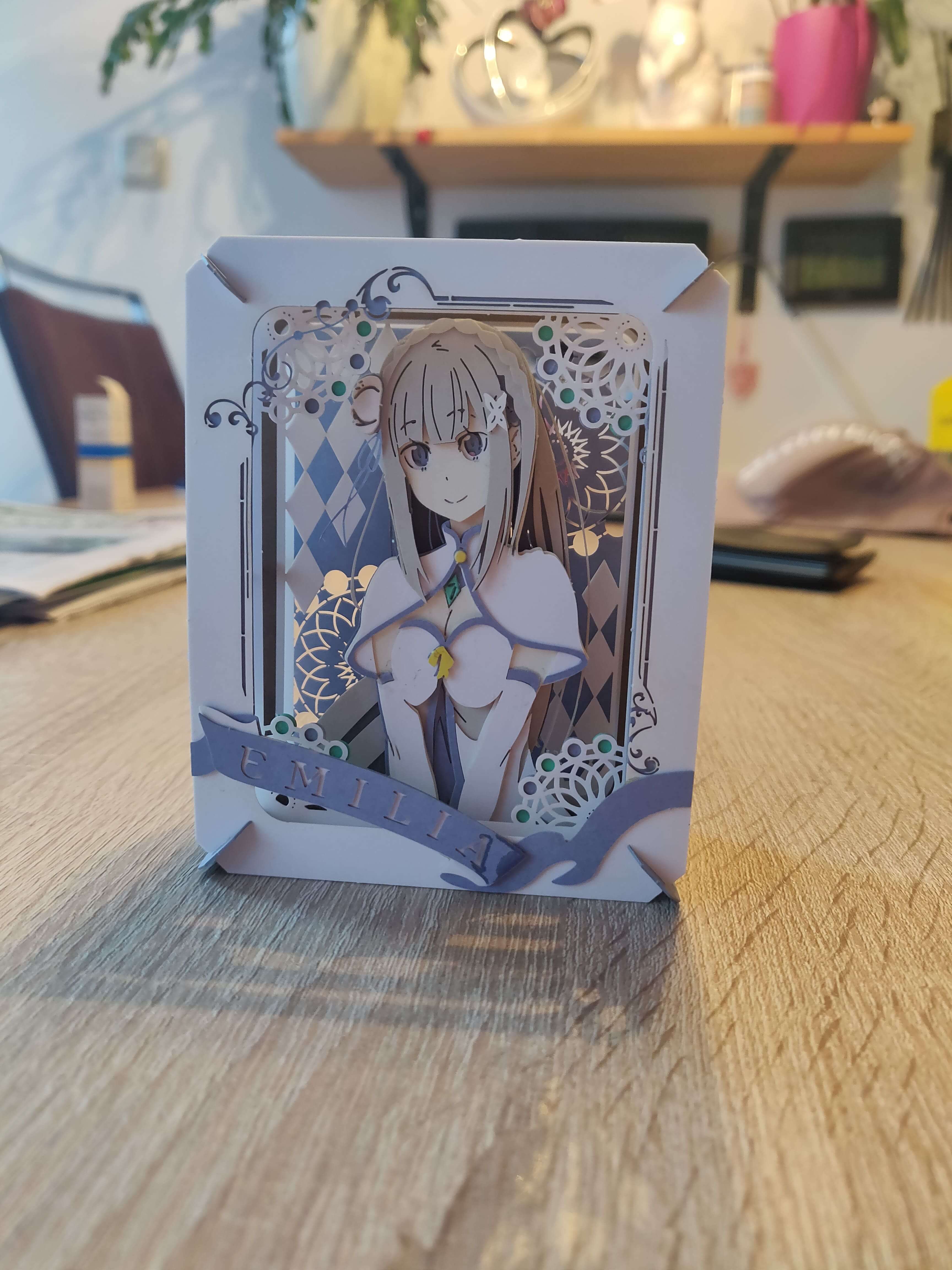 Paper Theater
Oh the things we do for love...
I'll admit, cutting and glueing all of this together was painful, literally, given that I cut my own finger doing it. But it was worth all the effort (and blood) in the end!
A paper theater is definitely something not too many people have in their collections, and that makes it feel even more special to me.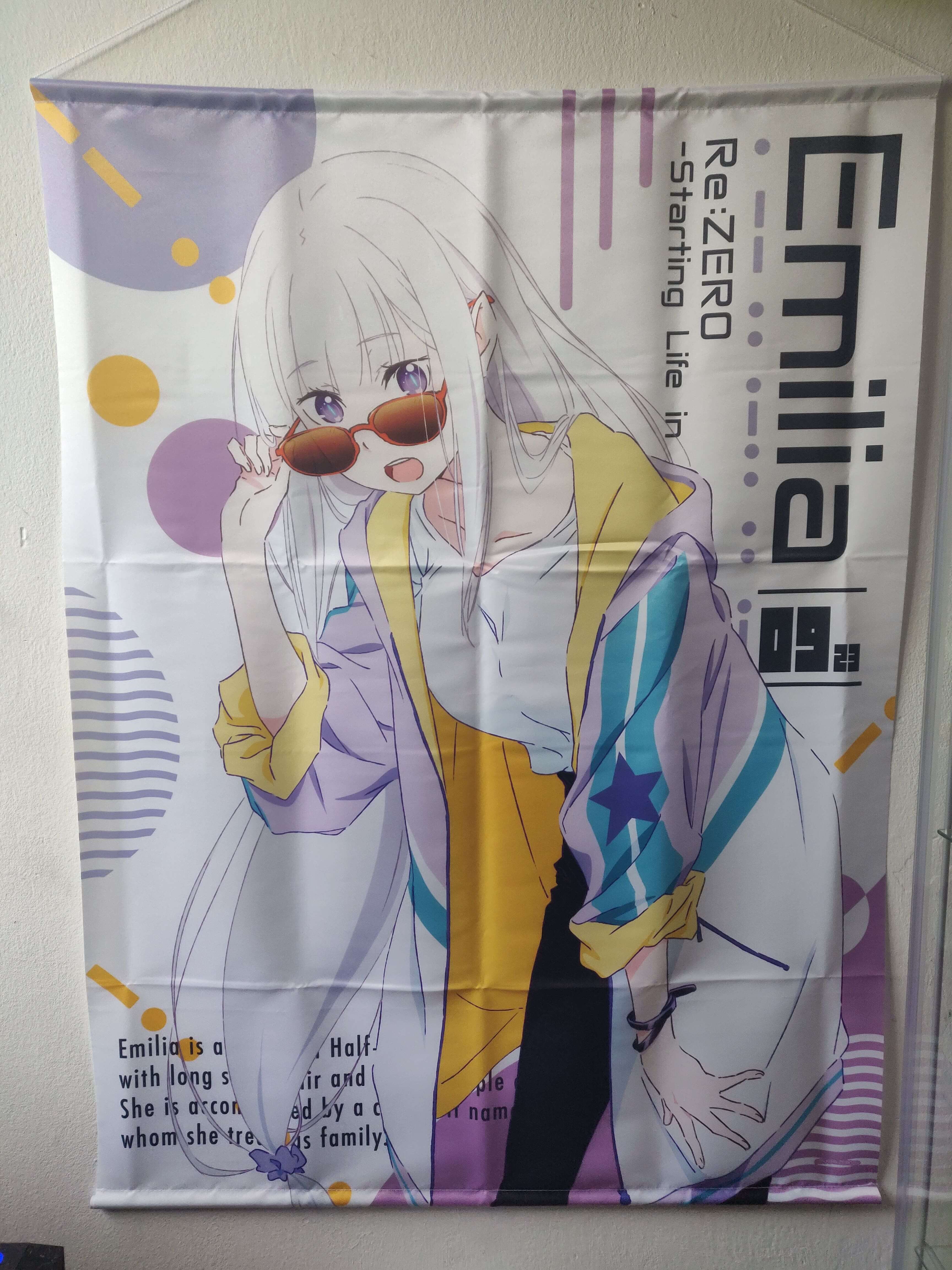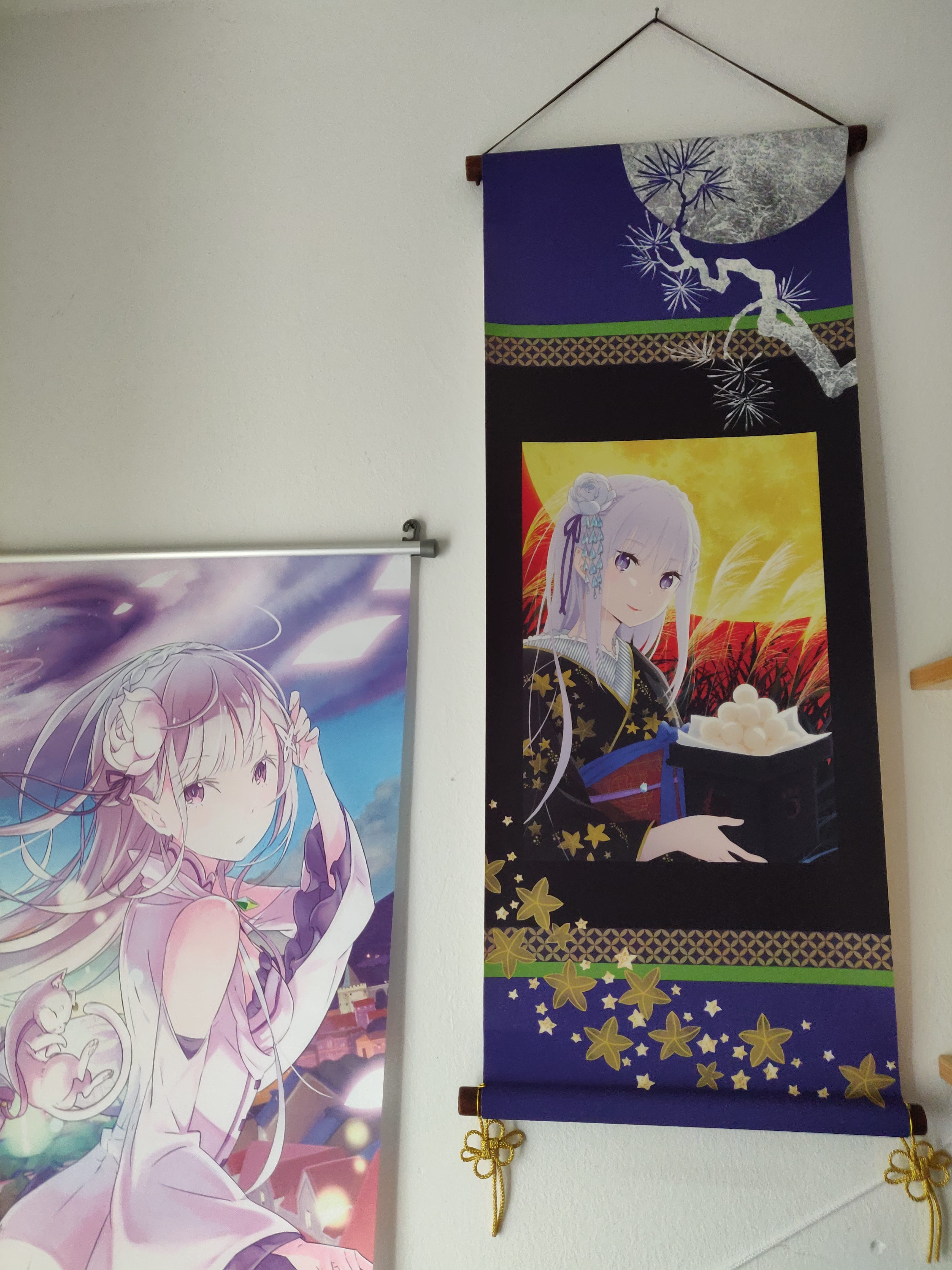 Wallscrolls
When I ordered this wallscroll, I would have never expected it to be this big. Though I'm not complaining of course.
I love her outfit there. That jacket is just gorgeous, and makes me want to take a stroll through the city holding hands with her every time I look at it.
One of the other two wallscrolls is sadly a bootleg which I bought during the beginning of my relationship, but we all make mistkaes. I still really enjoy this piece of light novel art, so I look at it from time to time anyways. The one to the right is simply wonderful and I love everything about this artwork of Emilia. The material is also very high quality, and it came in a wonderful wooden box.